Welcome to Basito Miniature Dachshunds!
Thank you for visiting Basito Miniature Dachshunds. We are a small home-based ANKC Kennel in the Ryde area in Sydney. we are registered with Dogs NSW.
My decision to breed Miniature Dachshunds was not taken lightly. I have given considerable thought and time in making sure I am committed and striving for excellence in quality, type, and temperament. I am a member of the Dachshund Club of NSW Inc.
I have absolutely fallen In love with the Dachshund. At present I am the proud owner of two beautiful Mini's, one being our male dog, AaShudna Oliver Brown - the loveable chocolate boy and our other being AaShudna Piccadilly Daisy - a beautiful chilled black and tan girl. With our very first litter due in mid-January 2020 we are well and truly committed to producing beautiful, happy and true to its standard dogs. We would love to know that our puppies will be going to homes that have a similar love of dachshunds as we do. I truly believe a dachshund will enrich the lives of their owners as I have experienced this for myself.
We house our dogs in our home, they are very much part of our lives, they love to snuggle with us on the couch and shhh!!!, don't tell anyone, sometimes even in our beds. They never miss an opportunity to take a seat in the car as I take off for an afternoon school pick-up. It goes without saying they love to walk and play and be out and about lapping up lots of love and attention wherever they go.
We will be looking to place our puppies in a similar environment to which they were born. So please consider whether you have time and love for a dog in your life as they really are another member of the family once they join you. They require love and devotion from you and in return, you will find that your Dachshund will return the favour by showing you an endless amount of love back to you.
Please don't hesitate to contact me if you have any questions, I am happy to chat about anything Dachshund. (preferably by phone - 0411 430 644)
Dogs NSW Membership number: 2100091806
Pet Registry Breeder ID number: B000845446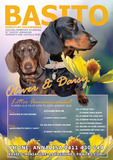 We are so proud to announce, we are expecting our very first litter, in mid-January 2020. Please direct all your enquires to Annalisa on 0411 430 644. Our little Mini's will be ready for their forever homes after the 10th of March 2020.
FYI, look us up on Instagram basito.miniaturedachshunds for daily updates of our beautiful dogs ad their adventures.